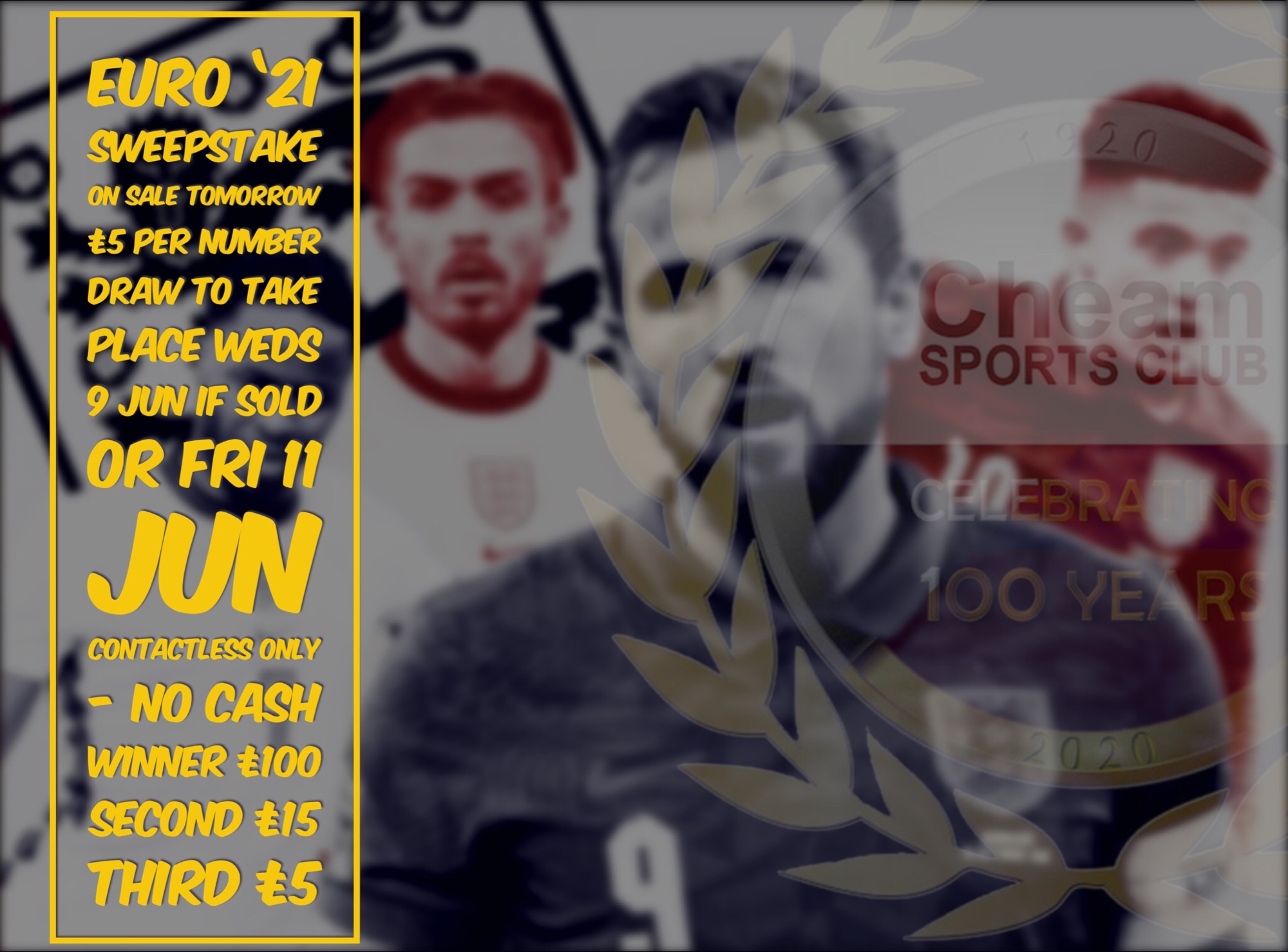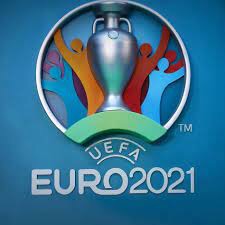 Next Friday sees the start of the Euro 21 Football Finals.
The ABK Super U's telly-box tent will be groups of 30, and the main bar inside will be strictly tables of 6.
ENGLAND v Croatia 13 Jun 2pm
UPTOWN FLAVA BBQ FROM MIDDAY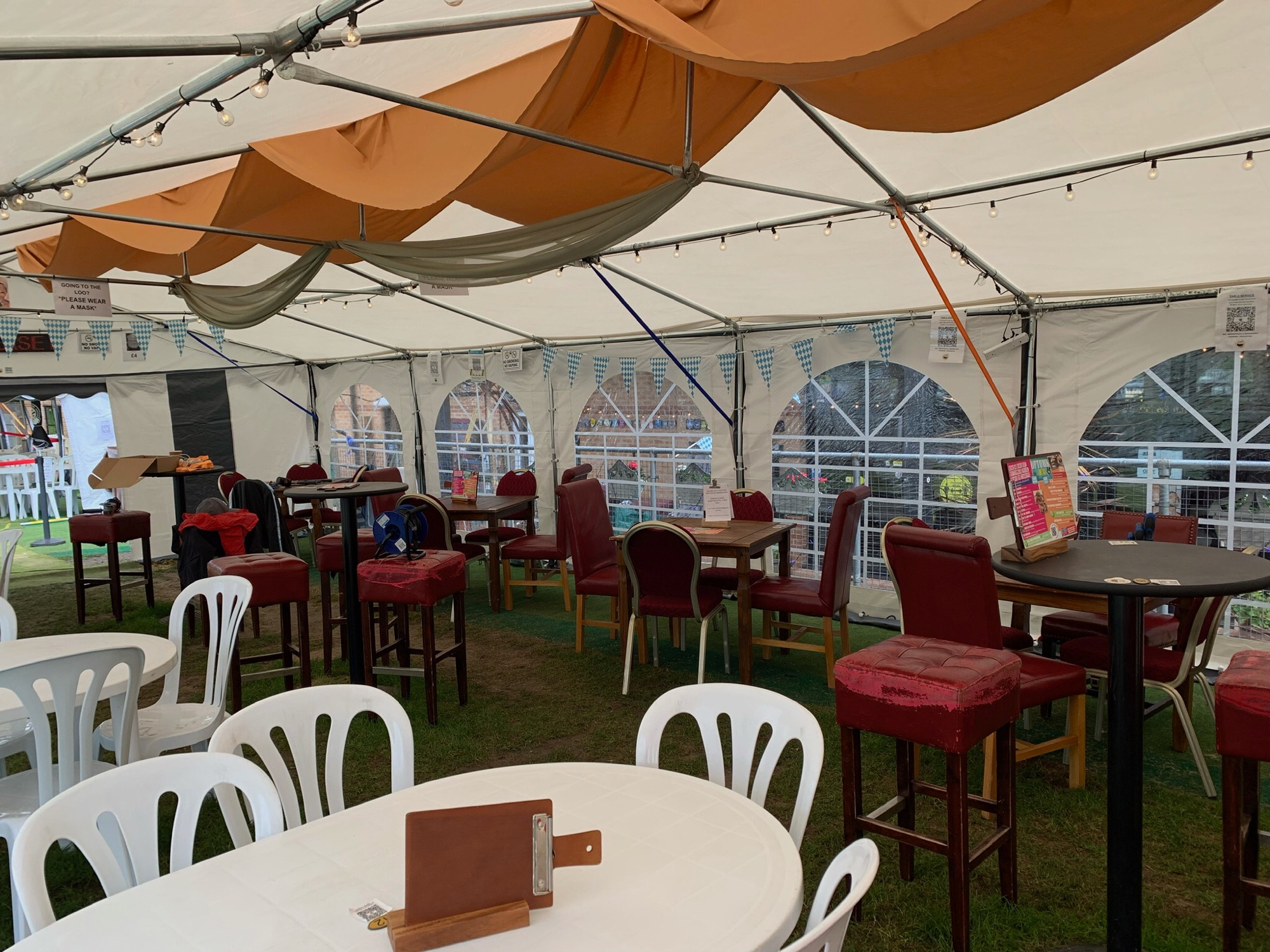 As well as being back indoors, we have converted Marquee 1 (The Executive Lounge) into a protected space with heaters if needed. It's very cosy and a lot warmer now so we hope you enjoy it. Mask wearing a requirement when not seated and tables of 6 maximum.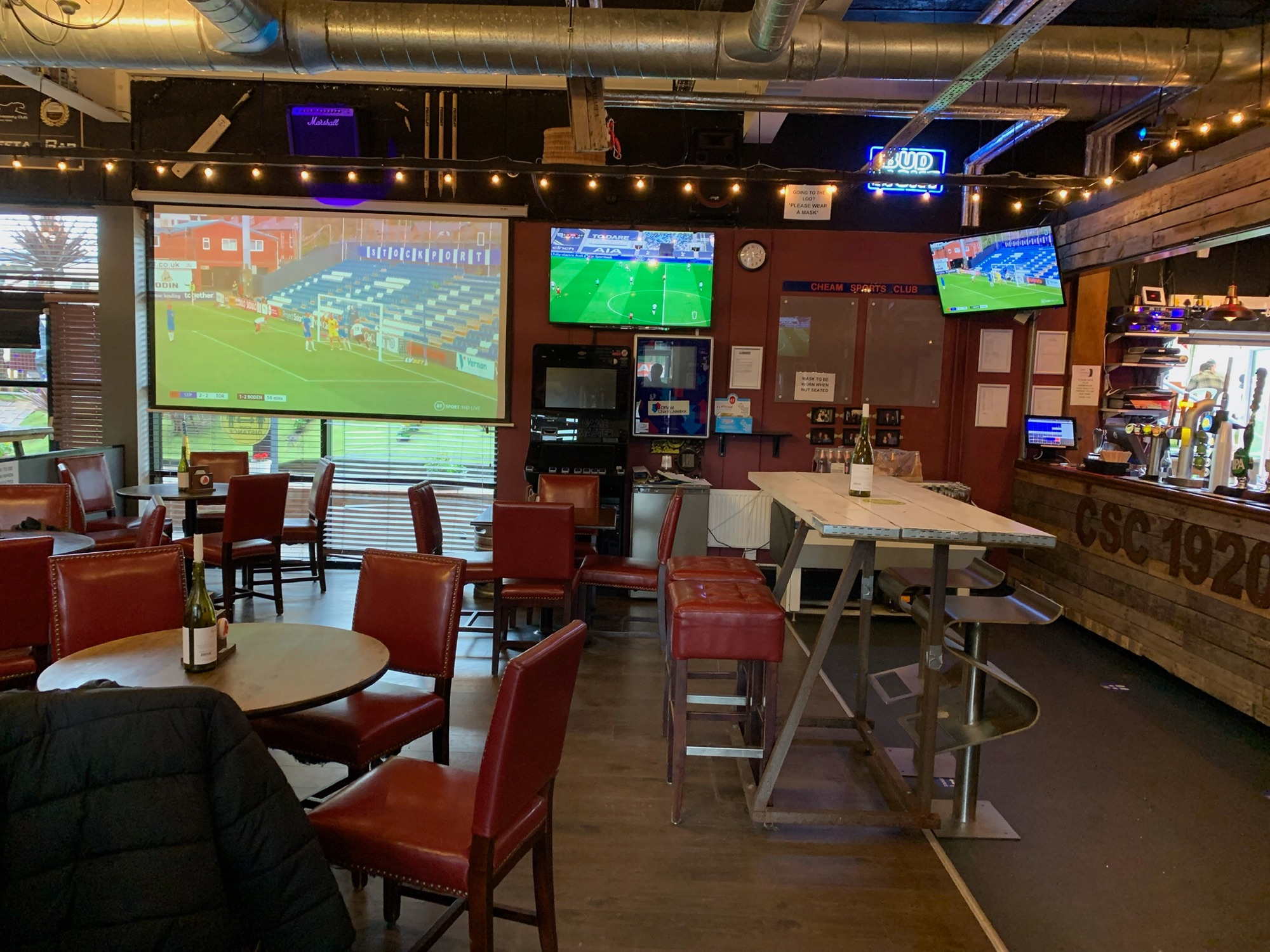 Hello Folks
IMPORTANT MESSAGE FOR ALL MEMBERS OF CHEAM SPORTS CLUB 11 May 2021
Here's an update for everyone so please share. It's nearly all good news as we bring staff back from furlough, get ready to re-open the Clubhouse and the easing of restrictions from next Monday has been confirmed. That said, we need to make sure everyone understands where we are right now, what changes next Monday and why getting to 21st June is so important. To do that, every member and guest needs to play their part.
The first two items are ones we need to emphasize to all members and guests using either the Biergarten or the Clubhouse. As things stand, these requirements will remain in place until 21st June earliest:
1) Clubhouse & Biergarten – you MUST "sign in"
Whether using the Clubhouse or the Biergarten, anyone over 16 years must "sign in". Every person can either scan the NHS QR code using their NHS Covid-19 app or provide their name and contact details. This has to be done by everyone over 16, not just a lead member of a group.
2) Clubhouse – you MUST wear a mask
Please remember you MUST wear a mask when inside unless you are exempt. At present, access is only for using the toilets. From Monday 17th April, when we can re-open the bar inside, you still MUST wear a mask when entering, moving around and using the toilets. Only when seated in the bar can you take your mask off. This will apply to Marquee 1 as well as this will become an 'inside' area.
So, for example, if you are playing tennis or cricket and feel the need to use the Clubhouse loos, allow yourself some extra time to a) sign in and b) get your mask on!
These are not our rules, they are legal requirements at present. Please let's make sure we all keep to the government's rules so we can ease up even further in late June and avoid any unnecessary grief from the local authorities and/or the Police.
Now on to some other matters:
3) Social Memberships – we are FULL!
We are suspending new social memberships with immediate effect as we are full. Thank you and welcome to all our new social members, young and old. Your support is fantastic and much appreciated. We hope you enjoy your Club.
We are also giving any existing social member whose membership has recently expired an amnesty until the end of this month to renew. After that, any new applicants will be placed on a waiting list, likewise anyone who has not renewed.
4) FA Cup Final - Saturday 15th May at 17:15
The existing Covid rules apply so that means we are limited to 10 tables of up to 6 in the TV marquee. We will be enforcing a strict "members only" policy and first come, first served. You will also need to use the Apps to order drinks or food.
5) Clubhouse - with effect from Monday 17th May
With the change in restrictions and some changes to Clubhouse operations, we will be able to allow extended access to the Clubhouse for use of the toilets. Opening times will be:
Mondays and Thursdays 2:30pm
Tuesdays, Wednesdays and Fridays 9:30am
Saturday and Sundays 11:00am
6) Clubhouse – with effect from Monday 17th May the inside bar(s) will be open!
The indoor bar(s) will be open from 3pm on weekdays and noon on weekends. Please remember you MUST stick to the rule of up to 6 and no more than 2 households. You MUST stay seated and order drinks and food when seated. Our capacity in the downstairs bar is 50 people, all seated.
7) The Biergarten – Danke!
Thank you to everyone who has supported the Biergarten and we plan to keep it going as its proved so popular and hopefully the weather will continue to improve with warmer and sunnier evenings. From next Monday we can allow groups of up to 30 and whilst we're not expecting groups that big, it does mean at last if you've been playing a team sport, you and your team and your opponents can all have a drink and a chat together.
And finally…
It doesn't all happen by magic so my thanks to our brilliant CSC staff and all the volunteers who help keep CSC and your own sports not just going but thriving. Here's to our 101st year being a good one for us all and a few more smiles, laughs and perhaps even a few hugs along the way.
See you soon, summer is coming, as is Monday 21st June when fingers crossed, we can hopefully return to some kind of normality. Please play your part in helping that happen.
Enjoy your sport and enjoy YOUR Sports Club.
Alan
Alan Rankin
Hon Chairman
Cheam Sports Club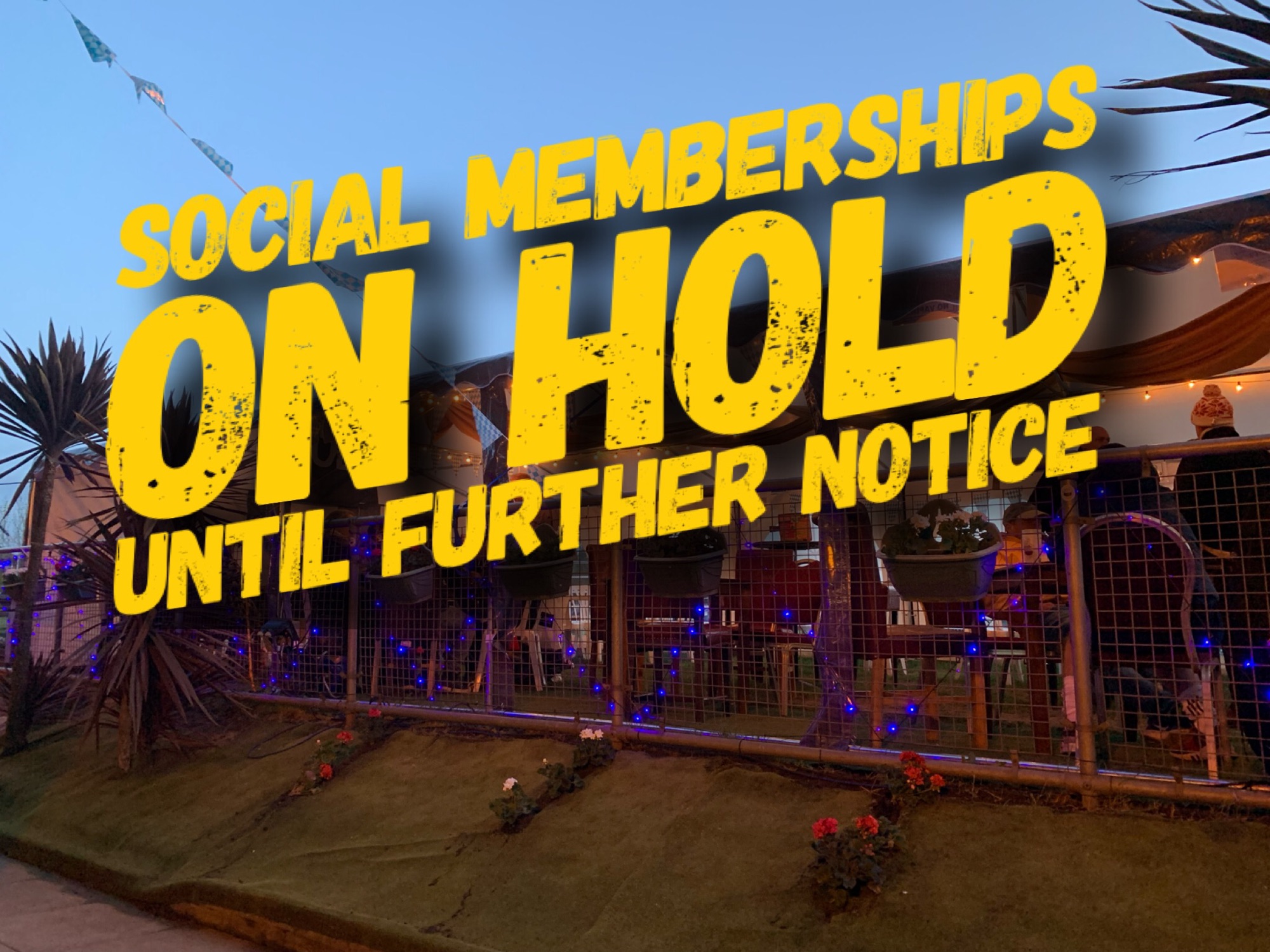 We are now full for new Social Memberships. Watch out for an 'amnesty' announcement regarding renewals of existing Memberships.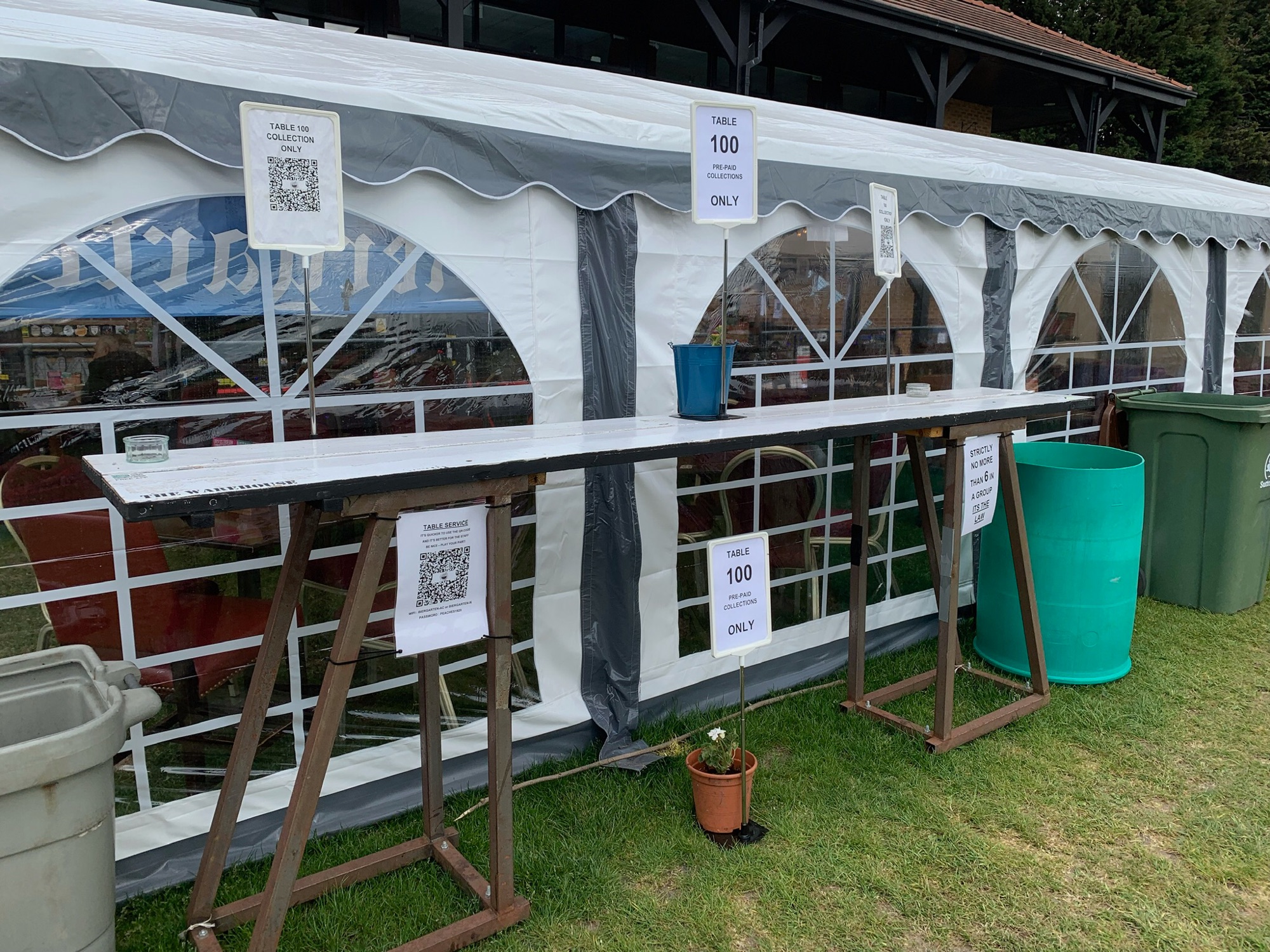 TABLE 100
Order here, pay'n'collect.
Yeah, we know, but you will get priority over the window queue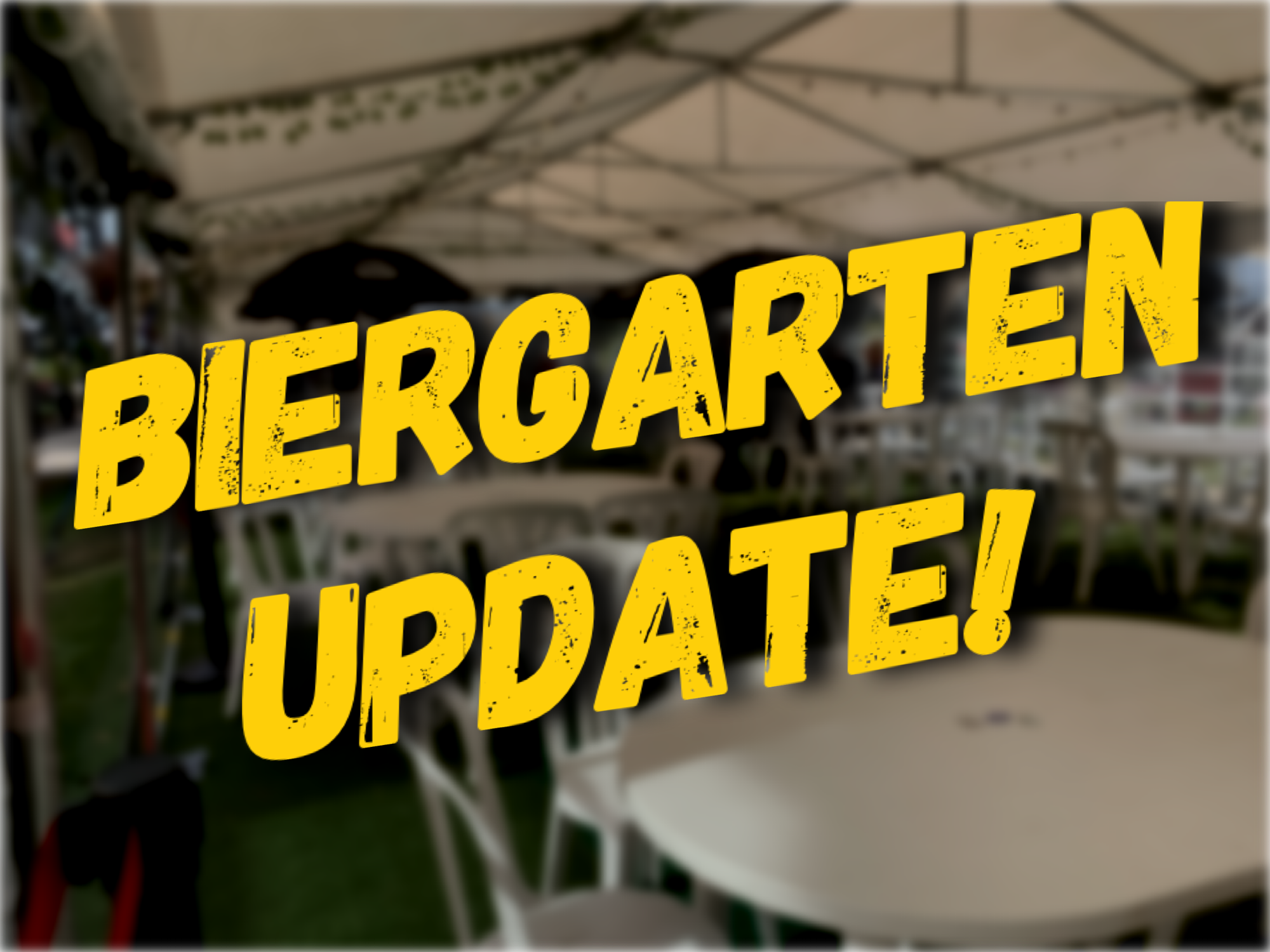 Hello folks
A couple of significant changes to help you and the team enjoy the weekend:
For table service you must be seated at a NUMBERED TABLE - we urge you to use the technology - it's been tested as working properly tonight. However, we will help you in these areas ONLY if you can't cope with it.
If you are NOT at a numbered table you MUST use the tech. Order to table 100, your drinks will be delivered there.
If you can't cope with either of those, you will ONLY get service via the window, queuing up NOT on the stairs but to the left as you look at it. You will be dealt with once we have looked after pre-paid orders.
Please do NOT pass by the window on the way from or to the lav and put your requests in. These will NOT be dealt with. We are too busy to do so.
Sorry for the capital letters here and there but we have to make it fair for everyone. Play your part - you will get served much quicker!
We are a Members' Club, not a walk-in pub.
By all means come and see us and we can see if the Club is for you.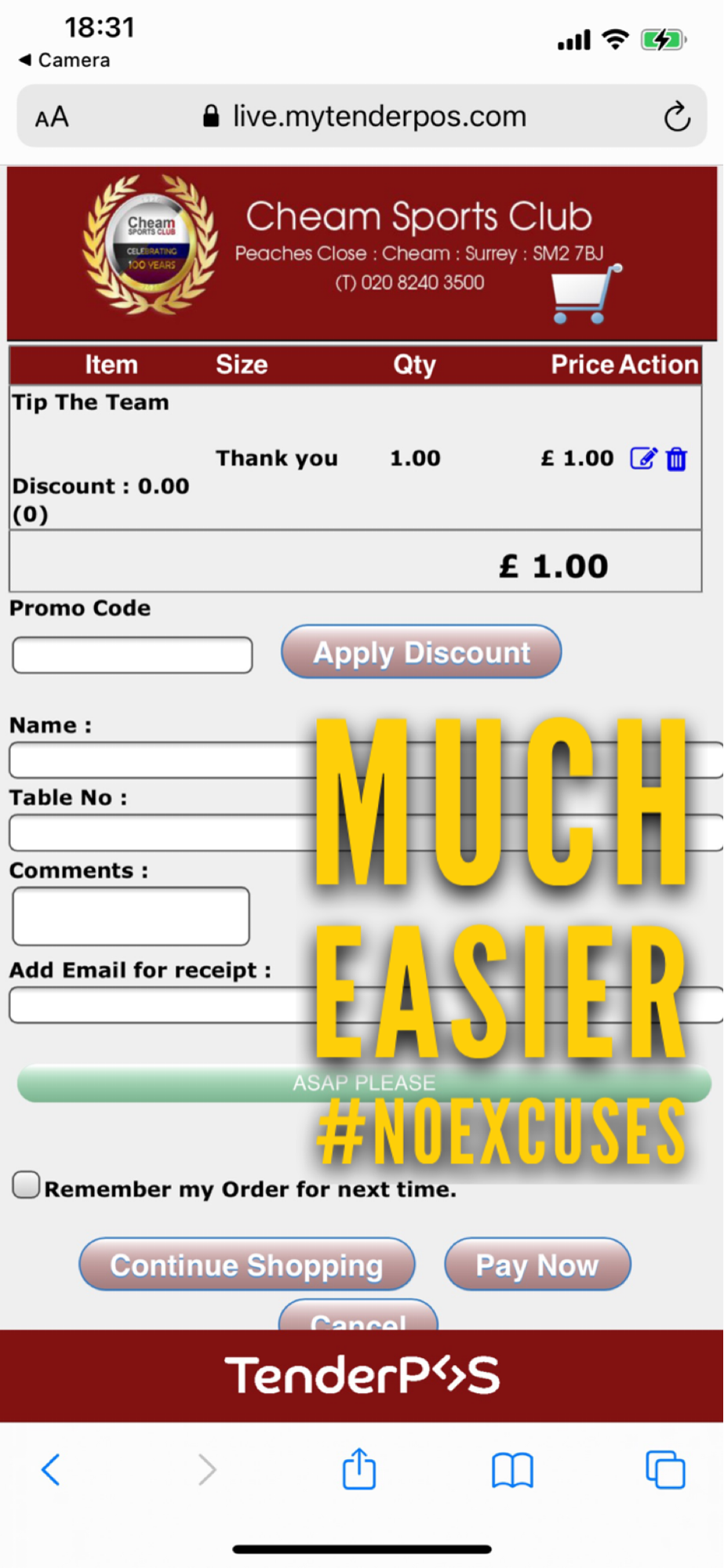 We've made it much easier. Just name and table number. If you want a VAT receipt, put in your email address.
Thanks for giving it a go - it will be a permanent thing throughout summer and beyond.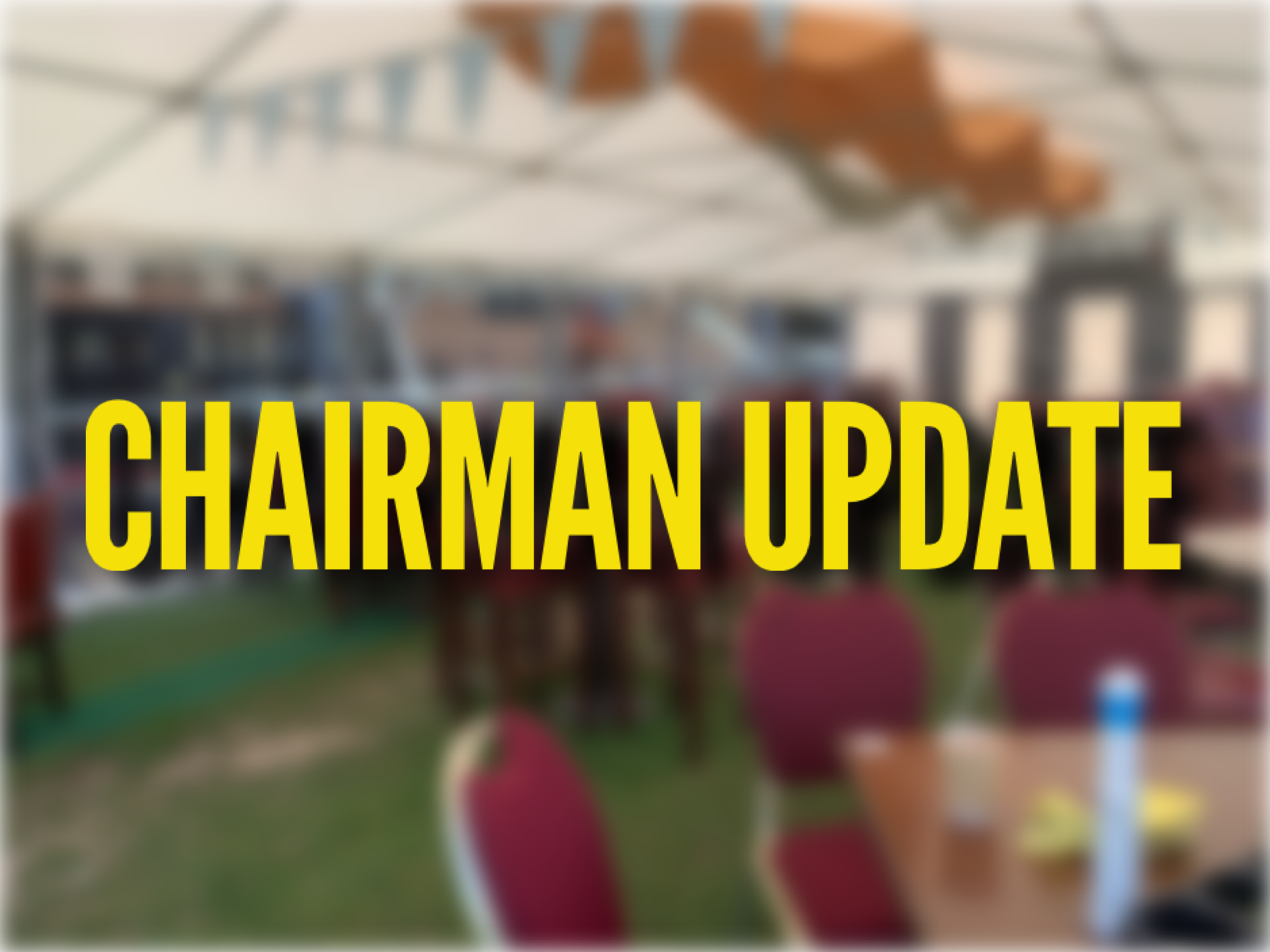 Folks
I've mastered the App. If I can, you can. Believe me.
Please, please try to use it. Our brilliant team are here to help show you how. It saves time and money for all of us.
I was disgusted to see people clicking their fingers at our team earlier today. Please be sure if anyone wants to carry on that kind of attitude you will only be heading one way, and that's towards Sandy Lane and at considerable speed.
In having to provide table service, we have two choices. Up the prices to cover the extra costs or try to keep the prices as they are but ask you to use the App as much as you can. Rest assured, if you can't use the App we are here to help but expect a slight delay in someone delivering your drinks to your table.
If anyone else clicks their fingers again, expect a highly explicit Glaswegian response from yours truly.
Chairman Al.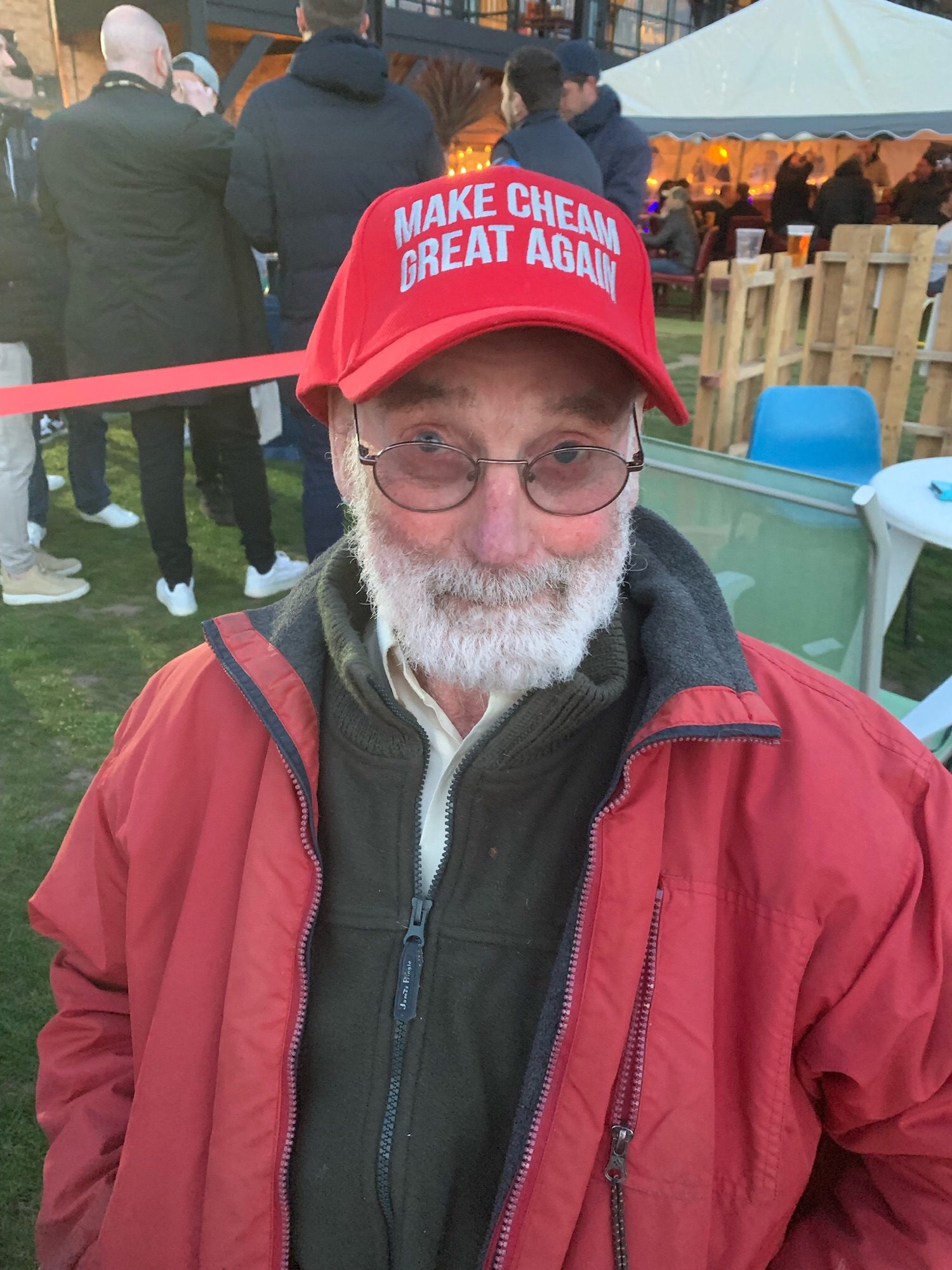 Let's make Cheam Great Again.
Club President John sending out the message which includes the following:
GROUPS OF 6 MAXIMUM
We had a proper visit from the Police this evening and we must up our game. A few tweaks but the biggest one is you lovely folk playing by the rules.
FOUR WEEKS AND WE MOVE TO STEP 3
Let's do this!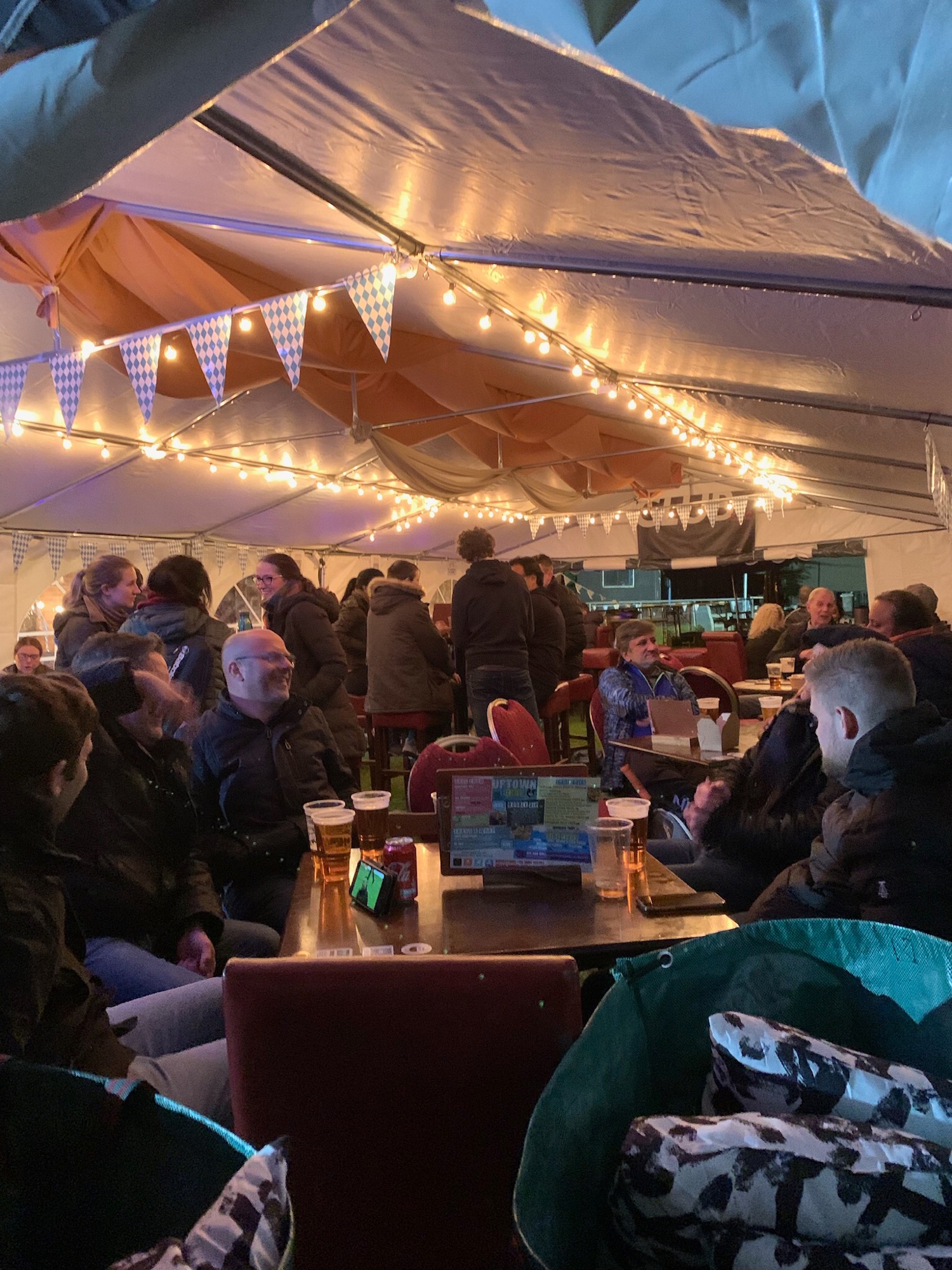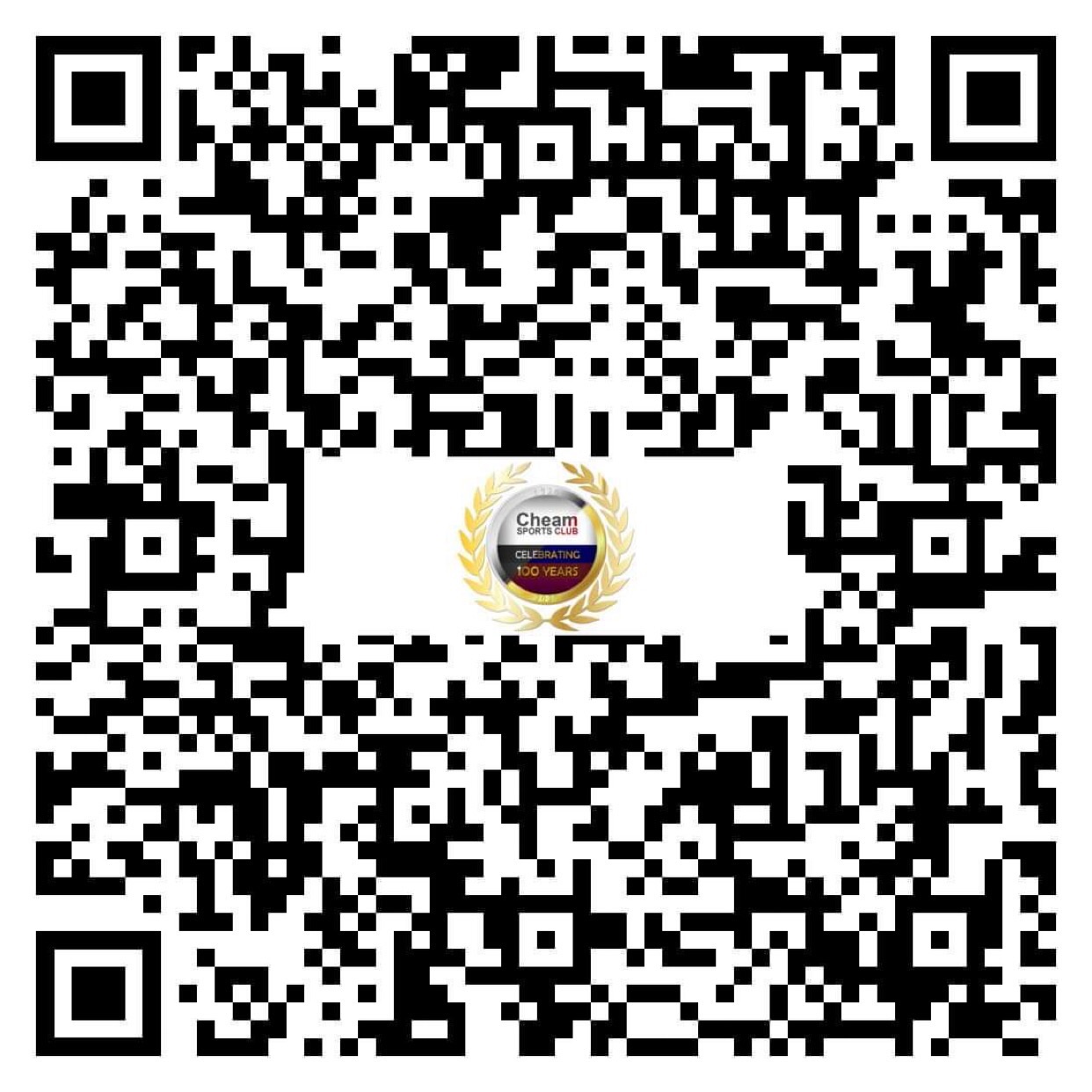 This is your secret to fast service.
It's a QR code. Google is your friend, research it, do the thing and surprise us tomorrow onwards.
You'll get your drinks in half the time.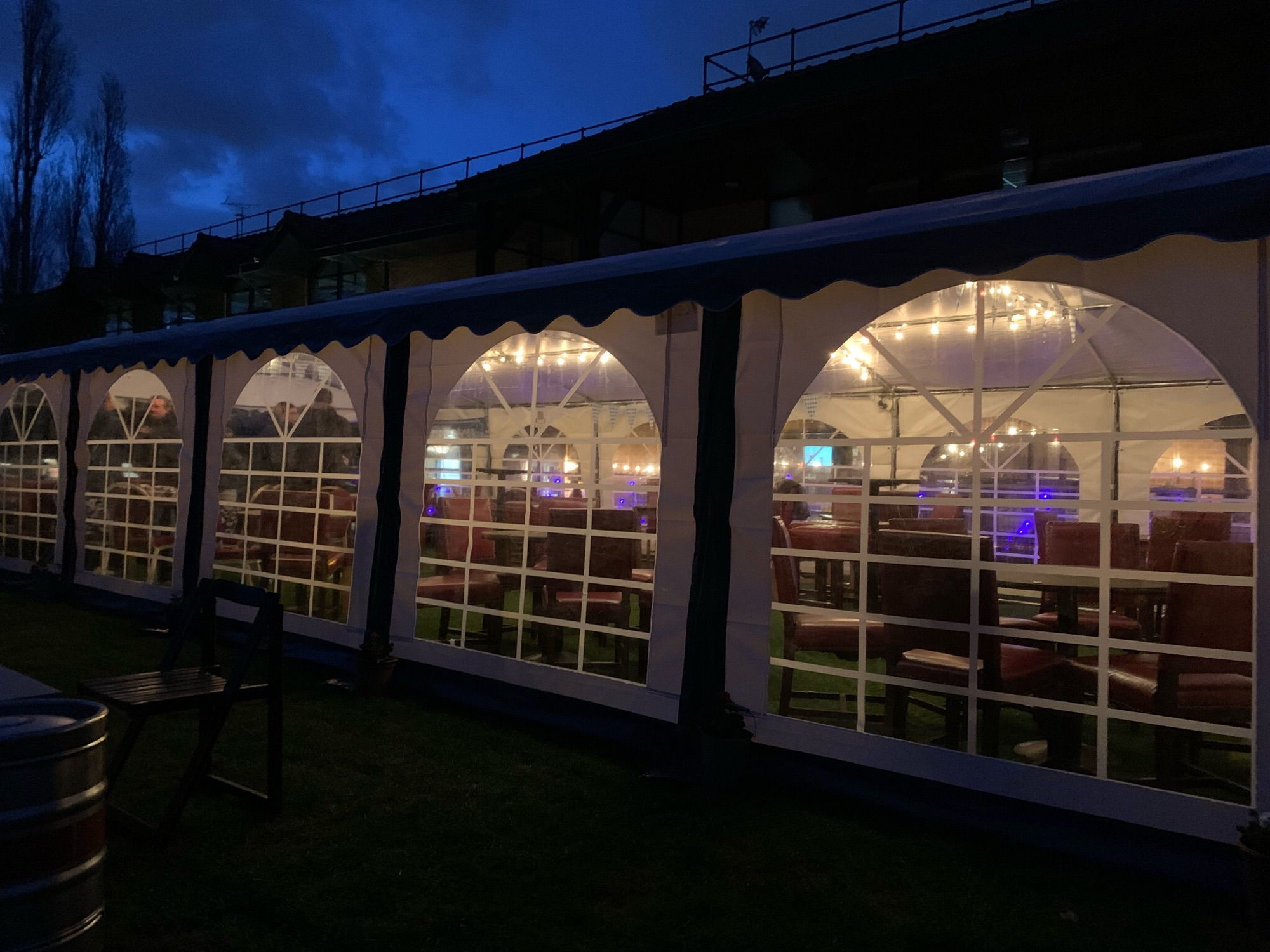 Happy with the way it's coming together. Looking forward to seeing you as we reopen.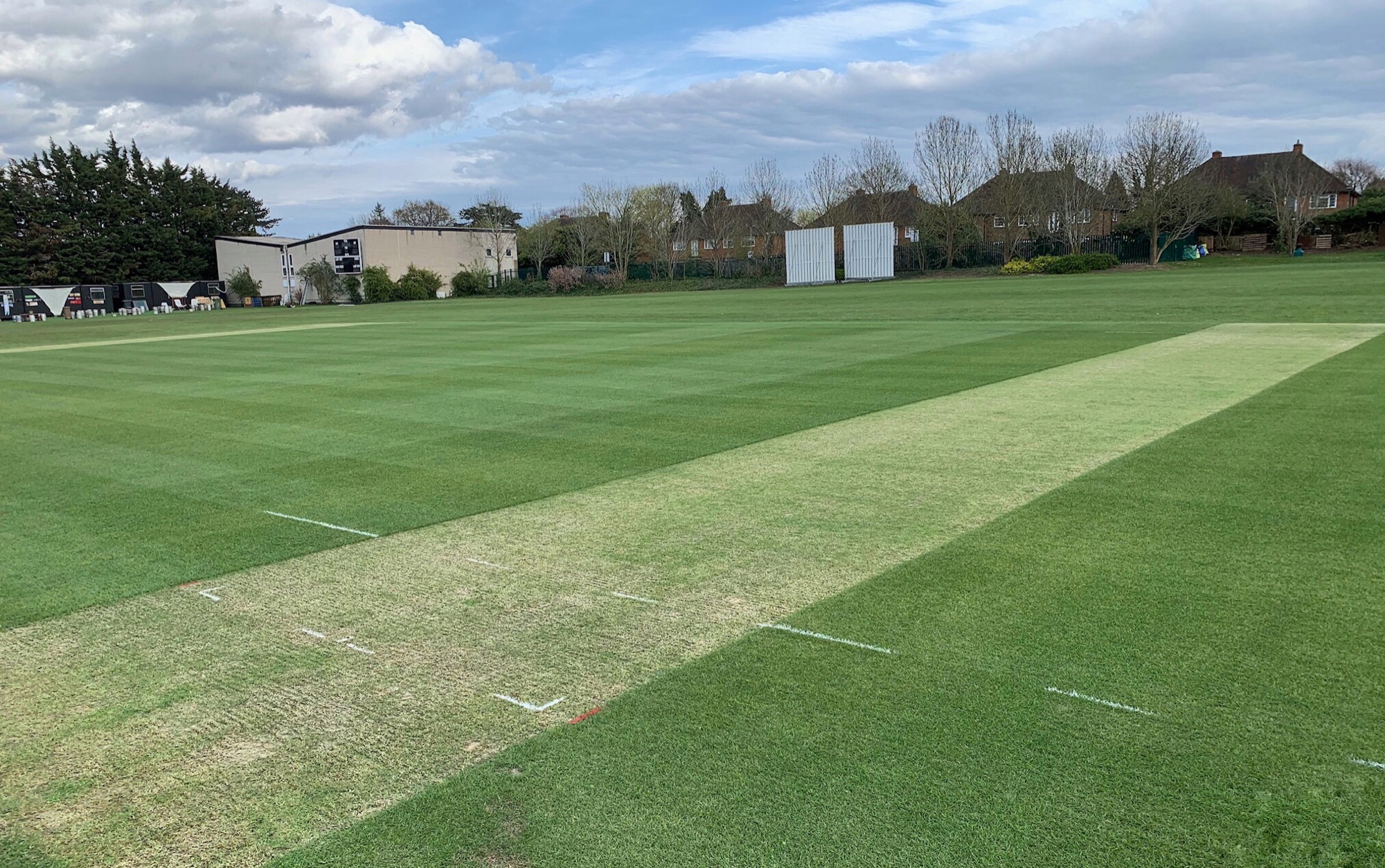 New groundsmen, SJK Sports Turf Installations, doing what they do best. Blimey.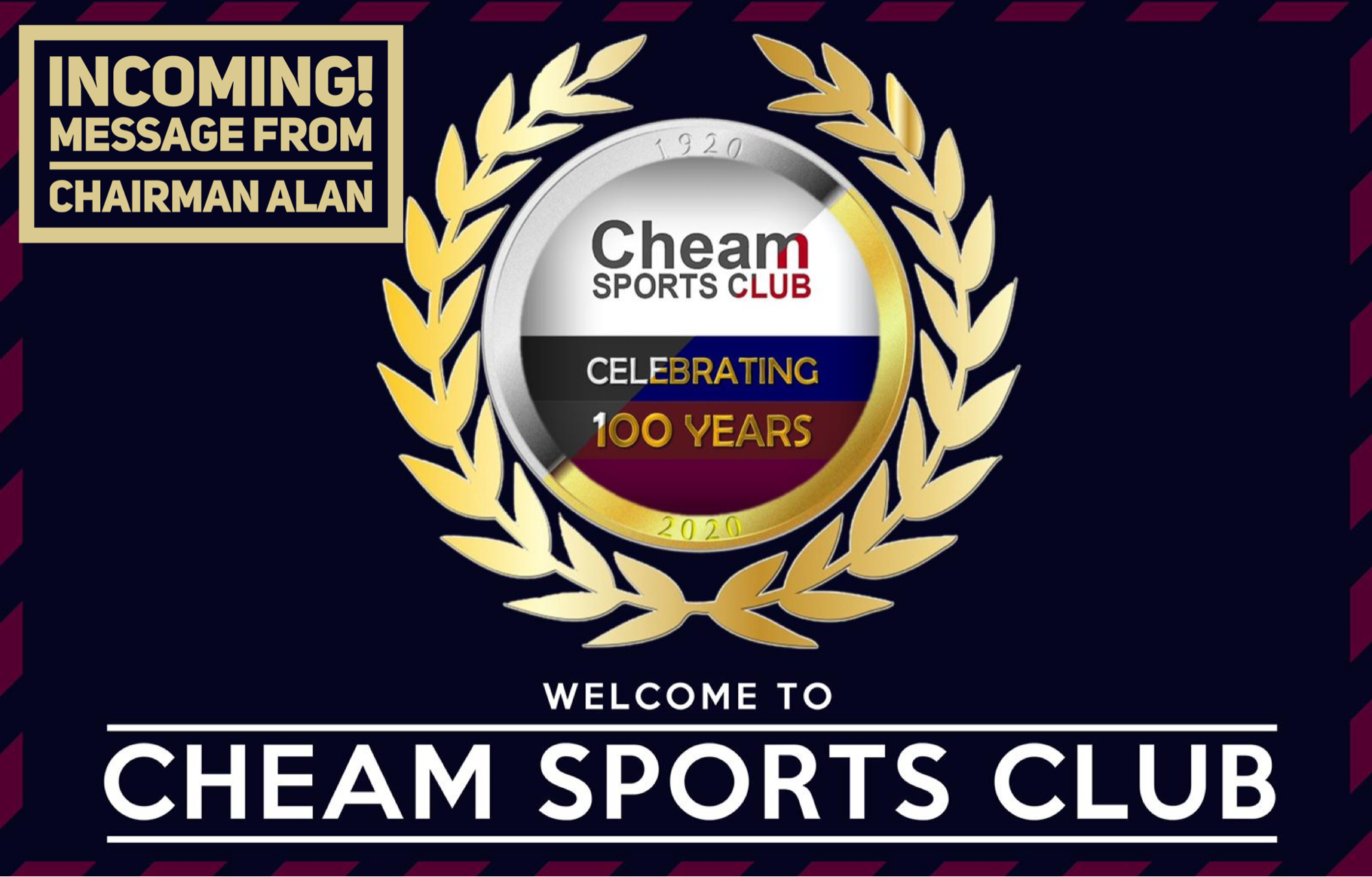 Hello Folks
WE ARE LESS THAN 90 HOURS AWAY FROM THE BEER GARDEN OPENING!
I'd like to thank every member for their patience as we see all our sports coming back but at different paces and with different rules in place. That also means we have had to tread carefully in opening parts of the grounds and parts of the Clubhouse, likewise bringing the staff off furlough. So, here's the very latest news:
BEER GARDEN & MAIN FIELD
We are all having to do everything step by step so from Monday with the beer garden open, there will be access to the Clubhouse loos and the parking terminal from 3pm on weekdays, noon on weekends (with no need to use the parking terminal as there are no restrictions on Saturday and Sunday). Likewise, with the football season at an end, after just two weekends of games, access to the field and cricket nets can start for Cheam CC.
The marquee is up, the flowers have been planted, watered and shoe'd into place (you'll understand what I mean when you see them!) plus we have loads of seating thanks to generous donations of furniture from members. You can bring your own deckchairs to guarantee a seat and a blanket for those colder evenings although we will have some fire pits to help keep you cosy.
FULL REOPENING OF CLUBHOUSE
We then move towards the 17th May when hopefully we will be able to open the indoor bar and take another step forward towards the new normal. Safeer and Nas from cricket have transformed the home changing room and Joe and Pippa from hockey have similarly refreshed the away room and the umpire's/referee's room.
THANK YOU!
This could be a very long list indeed and sorry if you are not mentioned but I do want to record everyone's thanks to the following people who have volunteered and achieved so much during lockdown inside and outside of the Clubhouse and indeed, around the grounds: Colin Hillier, Jane Widmer, Joe Oddy, Dave Martin, Derry Brophy and Alan Hancock. Thanks again to those who have donated chairs, tables, pallets, shoes and lots more. A brilliant team effort but I would expect nothing less from all the members of Cheam Sports Club, i.e., YOU!
NEARLY THERE…
We had some emotional footballers, young and old, last weekend as they were finally able to play a proper game after so long. Tennis has been back for a few weeks and clearly everyone is enjoying the courts. Cricket is less than a week away and Bowls soon after. We are all keeping our fingers crossed for Squash and hope to see Korfball back on Monday.
Please bear with us as we try to welcome every sport back to Peaches Close. I know everyone is desperately keen to get back to "normal" and playing their sport as normal but we need just a little patience, all the more so to ensure we carefully cover all our costs. Likewise, please ensure you follow the guidance issued by your own sport and their authorities.
Please support the beer garden and together, let's make Cheam great again! This is year one hundred and one of the Sports Club, I hope it is a happy, safe, healthy and enjoyable one for everyone.
Nearly there! Cheam Sports Club looks forward to welcoming YOU back.
Keep well and see you very soon
Alan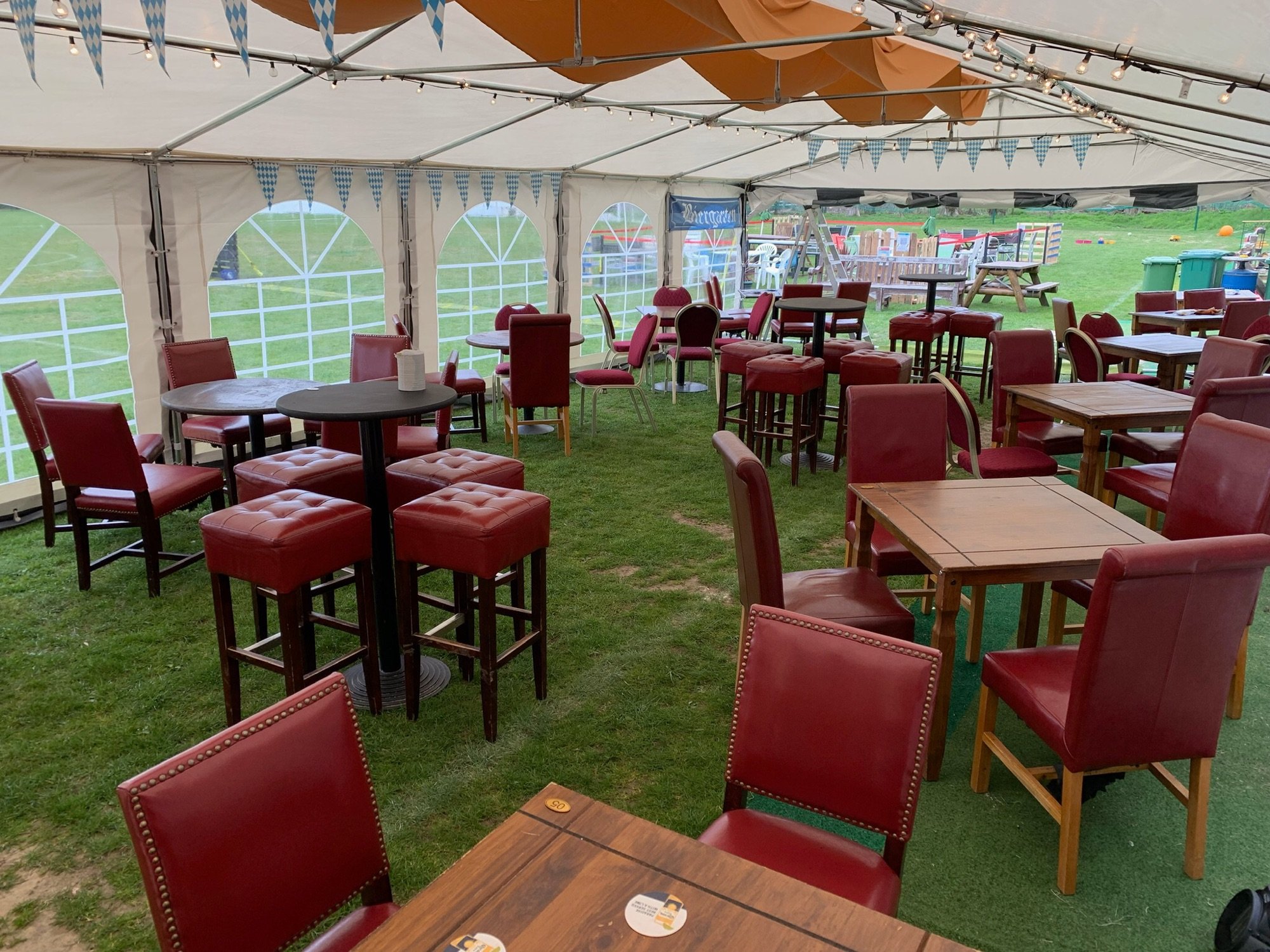 The Marquee looks better with tables & chairs - will be even better with people. Not long to go. Look up QR codes and WiFi passwords if you're bored. See you from midday on Monday.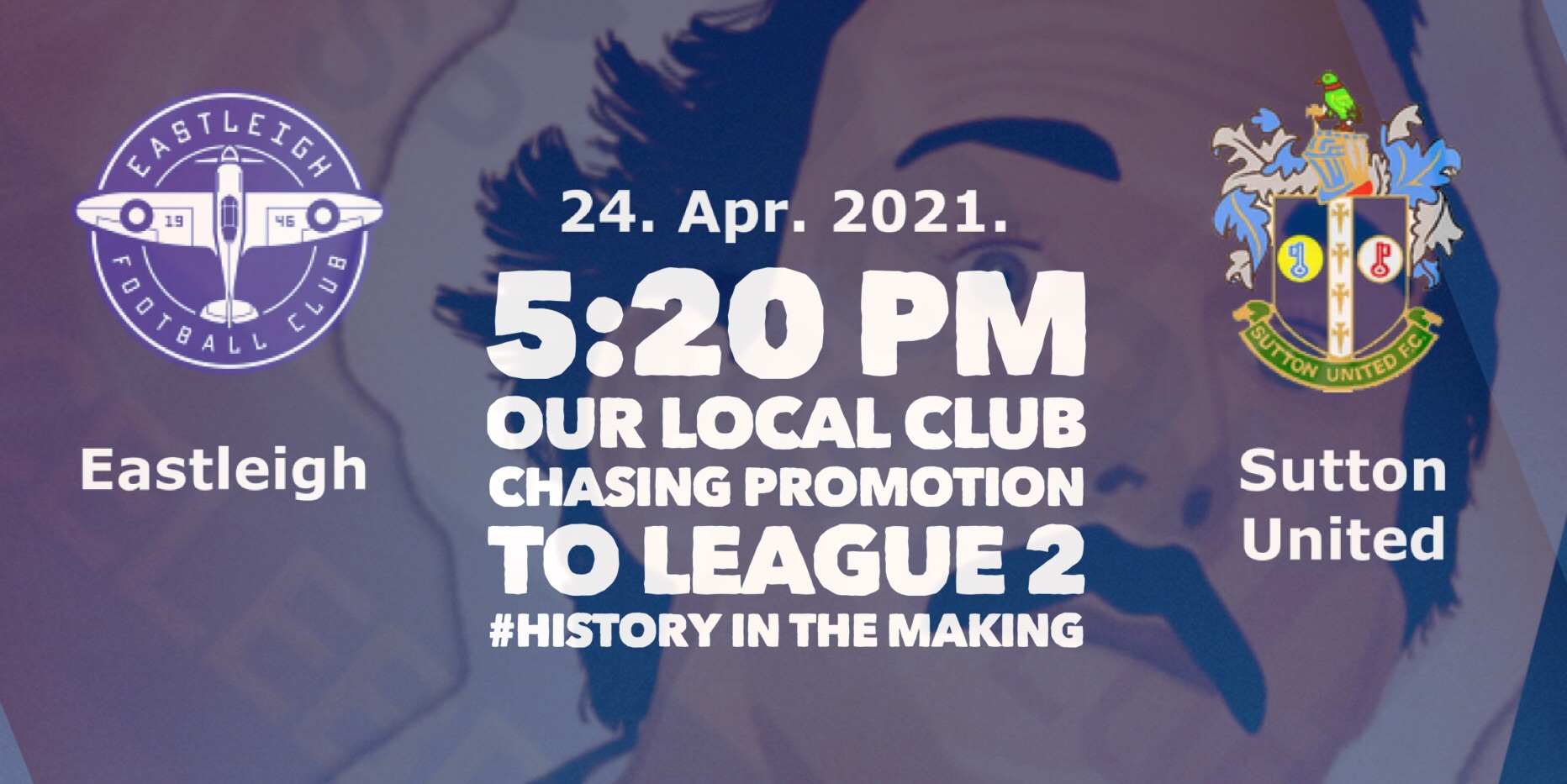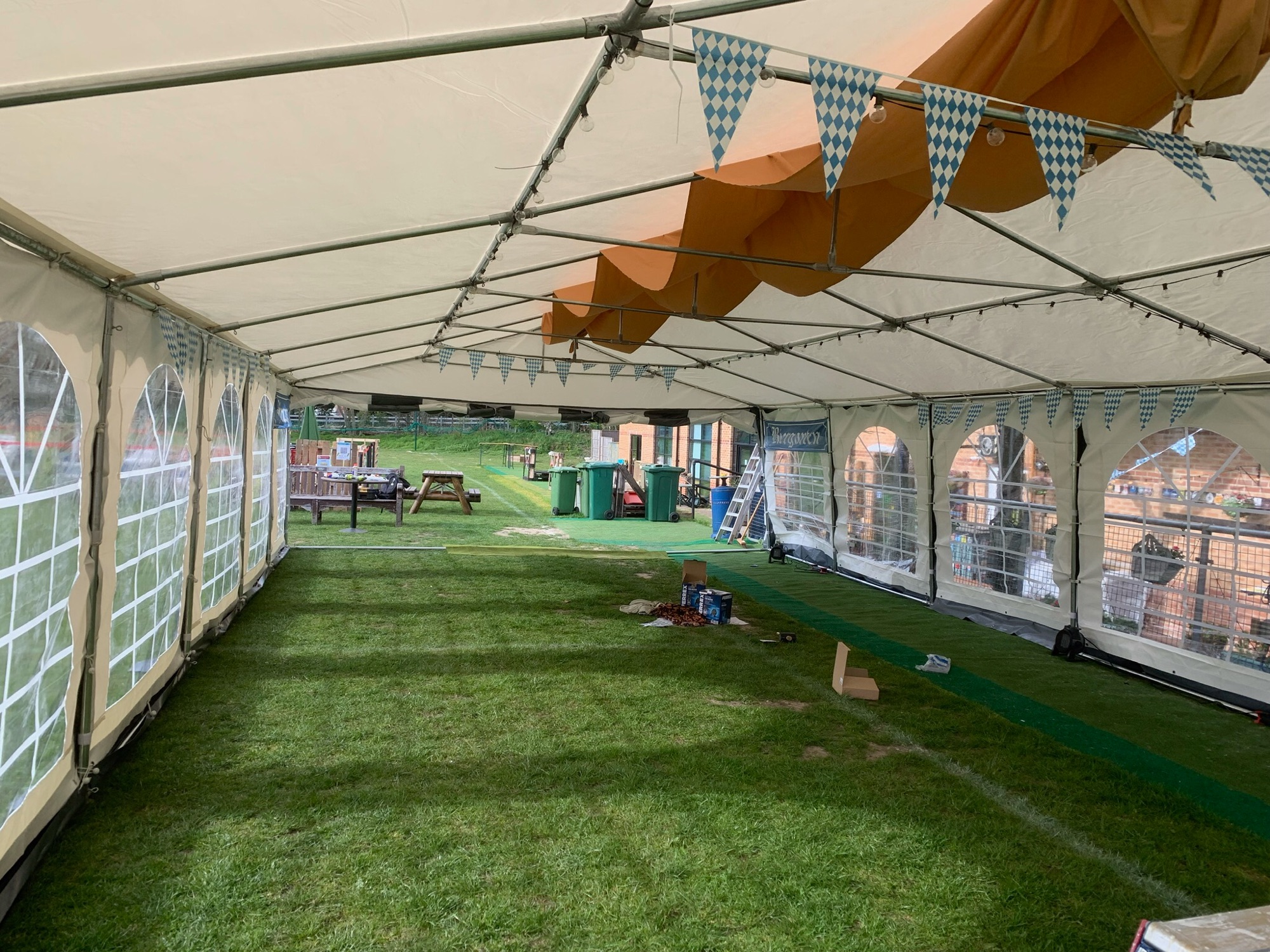 Our outdoor space is taking shape. This beast of a marquee is up and ready for tables & chairs.
We reopen 12 April at midday

As well as regular contactless payments, get ready for paying via the table-ordering app. It'll be faster, you stay in your seat and we come to you. More details to follow!
PLEASE NOTE WE REMAIN CLOSED UNTIL 12 APRIL AND THEREFORE CANNOT ANSWER TELEPHONE CALLS - PLEASE USE THE APPROPRIATE EMAIL CONTACTS UNDER THE CLUBHOUSE TAB ABOVE
BOOK YOUR FUNCTION NOW
The Connolly Room is fully back in business from 12 July
(select dates from 25 Jun may be available)
Check the online diary HERE and lets' get your party started!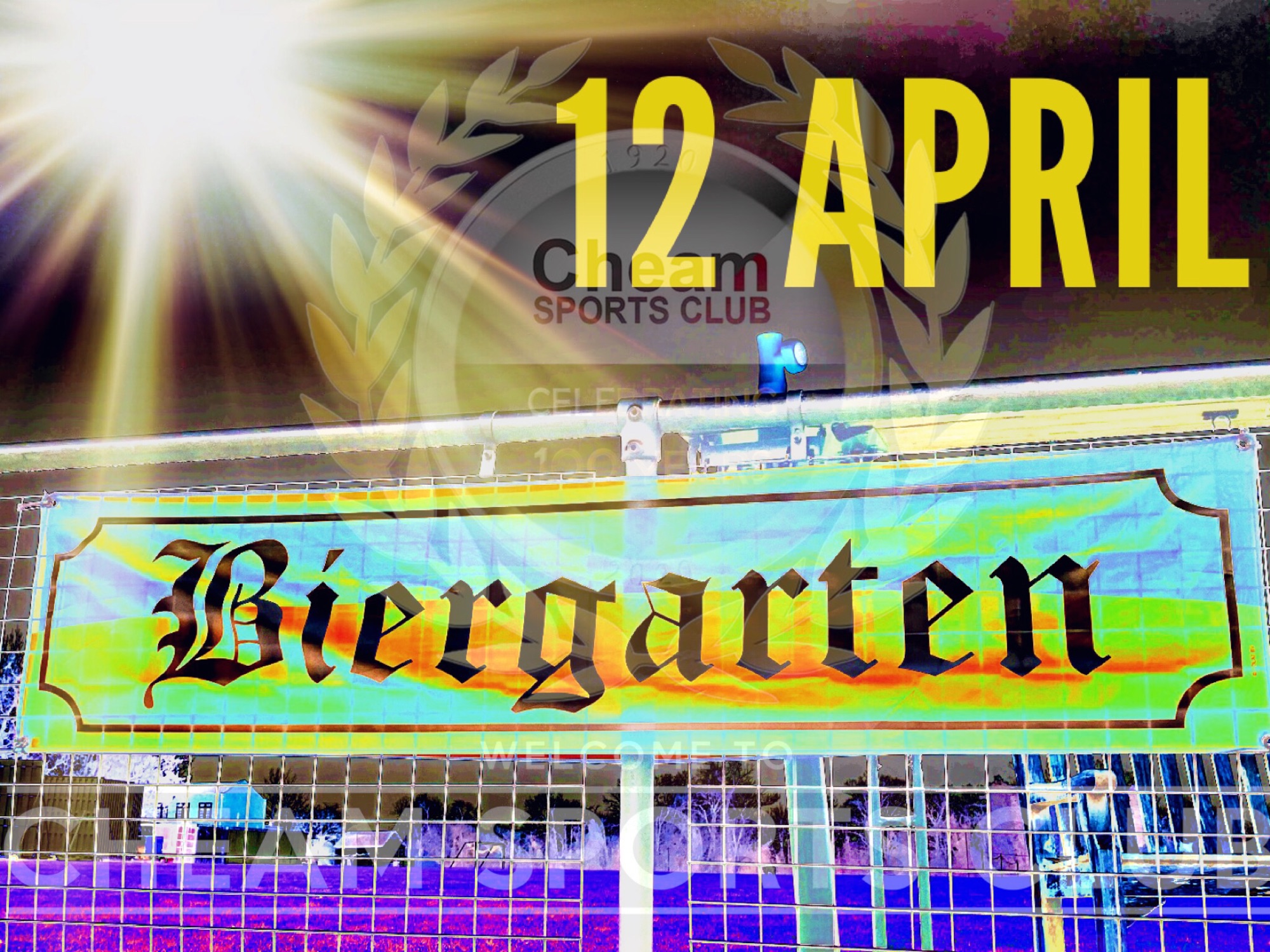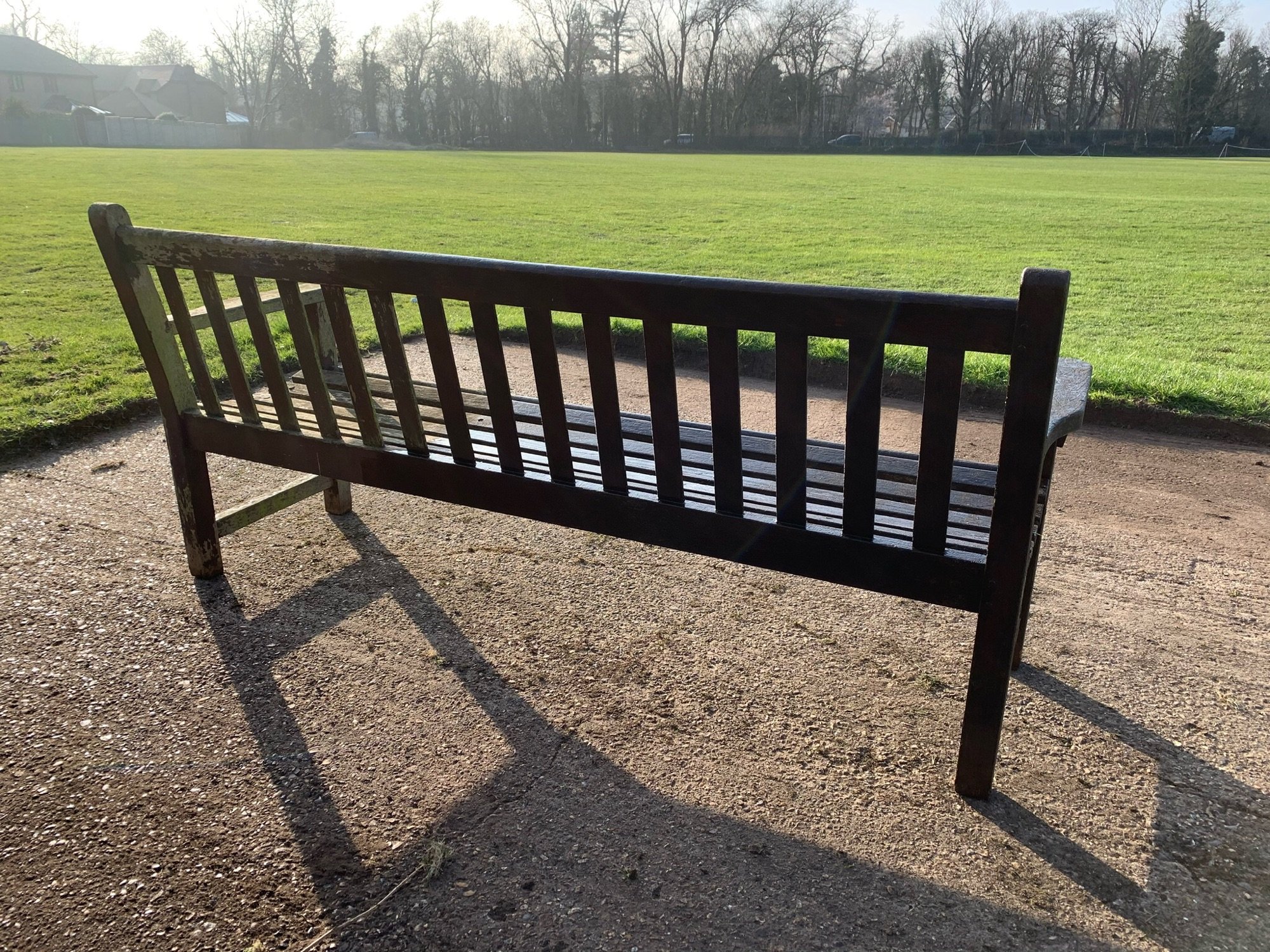 SPORT RETURNS!!
TENNIS & FOOTBALL 29 MAR
CRICKET FULL SEASON 17 APR
BOWLS 'NORMAL' SEASON 24 APR
SQUASH (PARTIALLY RESTRICTED) 12 APR
BEER GARDEN OPENS 12 APRIL

Welcome to Cheam Sports Club
Chairman : Alan Rankin
Vice-Chairman : Ray Ward
Treasurer : Mark Parry
Secretary : Colin Hillier
Clubhouse Manager : Dan Cross
Deputy Clubhouse Manager : Henry Smith
Website admin : Colin Hillier
Sports Club General Manager : Colin Hillier
Assistant General Manager : Derry Brophy
Stock Manager : Derry Brophy
Bookings Manager : Jane Widmer
Head Chef : Adam Melius
Assistant Chef : Josh Parry